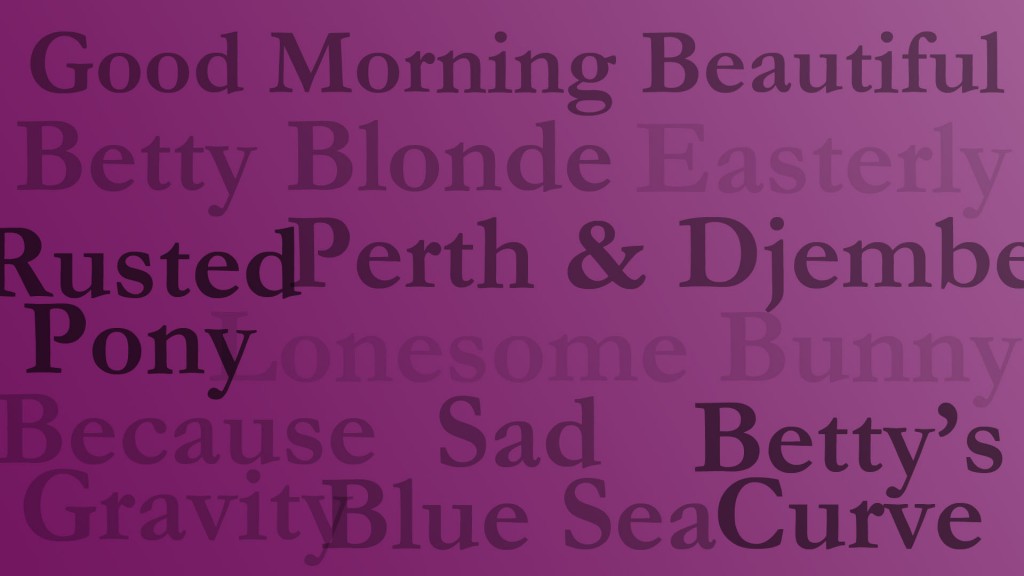 Blog Post #2 – Pick a Name, Any Name
I have been working hard for the last six months to move from being a web developer who is also a musician to being a musician who dabbles in technology.  For me this has meant packaging and selling my web development business, investing countless hours working with community partners to prepare and submit funding proposals to the Ontario Arts Council (never knowing if all the time and investment will even pay off) and inviting (coercing) the universe to step in and lend a hand if it feels so inclined.
Of course any good life coach will tell you to follow your dream and the rest will fall into place … and I believe they are right. But they will also tell you that despite that truism it is still not a passive process.  You only get out what you put in and the business of music is a multi-pronged, confusing web of creativity and strategy tinged with luck and ludicrousy. To be successful above all else you need an excellent product – something which can only come from time and effort – but you also need to have a firm grasp on current trends in media, marketing, technology, tarot, witchcraft, stocks and psychology … wait, what? Well, my job is to be dramatic 😉
… nothing half way …
People who are successful at living as working musicians (and I am referring to independent artists here, not superstars or their sidemen) do often share similar strategies for meeting their goals … at least as far as I can tell by my research so far.  I have some favorite people and some favorite blogs (written by some of my favorite people) … I will share these resources and insights as I happen upon them.  I believe that it is vital to feed the musical ecosystem with experience and knowledge … hanging onto what you know so no one else finds out is a fear-based survival strategy that I have watched consume a number of my counterparts … I will not be going down that road.
I have never been one to undertake anything half way … much to the chagrin of many of my family, friends and associates. Ok, I get it … I am intense … and that can be difficult (read, can make me a difficult person to work with).  But that is what makes me who I am and I am at peace with that.
When Maureen and I got together I was just at a juncture where I was coming to terms with the fact that while I had just set myself up squarely to nurture my web business so that I could pursue my passions as a musician what I really needed to do was to get that weight off of my shoulders all together and focus more whole-heartedly on my passion. Music.
… that was two years ago …
Today I signed a contract with another local web developer to hand over my portfolio and all the tremendous potential that it holds (I pray that they manage it wisely because I only get paid if & when they do) and I pour all of my energy into nurturing my passion – music, songwriting, producing, recording, creating.
Two years ago we were thrilled to realize that we both wanted to travel the Country visiting new places, hearing, playing and writing music.  It has taken some time to get focused but we feel we are definitely on our way.
As part of that plan, we have decided to give Yo Mama, our five piece band, a break.  The logistics of travelling and performing with so many musicians is just too difficult right now.
… a new project …
Instead, we are going to start a new duo project which will allow us flexibility in travelling and performing.  I won't get into specifics but the style of this new group is going to be somewhat Alternative Americana. I am hoping that the seven or so people who are reading this blog might want to weigh in on band name choices.  Here are our top picks so far, let me know what you think:
Betty Blonde
Perth & Djembe
Because Gravity
Betty's Curve
Easterly
Good Morning Beautiful
Lonesome Bunny
Sad Blue Sea
What's Altruism
Rusted Pony
…also, inspired by the traditional music surrounding us while we live in PEI, we are going to revive our alt-folk country duo, Fluffy Little Cowboys
Interesting/Frustrating Things I learned this month: